Whether you're a big corporation or a small local business in Bangladesh, Facebook is a powerful marketing tool. It's a great space to keep customers informed, develop the brand identity, and broaden your reach. Come on, we all know it, right? Let's not waste time talking about this anymore.
Want to increase your Facebook engagement as soon as possible? Try to follow these tips below and watch your engagement soar!
1. Cross-Promote on Facebook and Instagram
BuzzSumo found that images posted to Facebook from Instagram receive greater organic reach than Facebook originals.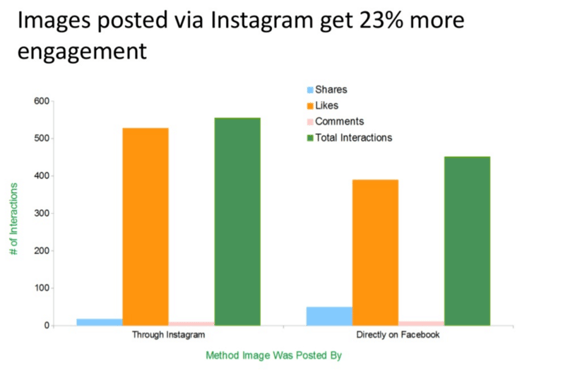 Facebook is trying to encourage cross-platform usage and is rewarding Pages which do so.

So, try to cross-promote on Facebook and Instagram wherever possible. Facebook has been pushing very hard in the past year or so to get people to use both.

They have 1.4 billion Facebook users but only 600 million Instagram users. They'll be pushing to get Instagram's numbers up for the next few years, and cross-promotion is going to be a key part of that strategy.
(Source: Buffer)
2. Upload videos to Facebook directly rather than embedding a YouTube video
When posting, just upload the original video file, rather than embed a YouTube URL.

Here's an example:
3. If you're looking to generate leads or subscribers from Facebook, keep them on the platform
Instead of sending people off-platform with a link in a Post, drive them to a Tab with your form, Facebook contest page or landing page embedded.
You'll get a higher conversion rate on whatever you're asking of them. As soon as you send them off, they'll drop off.

What to "Tab" on Facebook:
Event Pages
Calendars/Schedules
Pricing or Plans Pages
Newsletter Subscription
Pinterest/Instagram Feeds
4. Double-Dip Your Facebook Content
Not all Facebook marketing tips necessarily apply to the realm of Facebook alone.
Brands should take steps to funnel as many of their current visitors, past customers, and other social followers to Facebook. Think about your email list. Blog traffic. Instagram followers. Why aren't they part of your Facebook funnel?
The key is finding opportunities to double-dip your content beyond Facebook. Some common examples include the following:
Embedding native Facebook videos in your blog posts
Promoting a Facebook contest to your Instagram or Twitter followers
Including social media buttons on your homepage and throughout your email campaigns
Considering the sheer amount of time users spend on Facebook, turning your current leads into long-term followers should be the ultimate goal of any brand.
5. Speed Up Your Response Time
Sometimes standing out among your competitors means providing the best customer care. And let me tell you, speeding up your response time is VERY IMPORTANT!
People have high expectations from brands when it comes to responding to their questions and concerns. In fact, the average consumer expects a response from brands within four hours on social media.
So don't let your comments section gather cobwebs. While you can't be everywhere at once, you should make a conscious effort to respond to alerts and notifications rather than sleeping on them. Doing so shows that you value your followers' time and could be the difference between losing a potential customer or follower for good.
The need for speedier brand responses signals yet another reason why social scheduling is so critical. By having your content sorted out in advance, you can focus more on follower outreach and engagement versus scrambling for a new post.
Don't have enough resources to respond to all of your inbound messages? Learn how a Facebook Messenger Chatbot can help speed the process for you.
6. Don't Ignore Your Analytics
As part of putting these Facebook marketing tips into action, make sure that you're keeping a close eye on your social analytics.
Analytics clue you in on which type of content gets the most clicks and impressions, helping to optimize your Facebook strategy in regard to which types of posts drive engagement.
If you find that you're spinning your wheels or your audience isn't growing, chances are it's time to make a change.
But until you look at your presence by the numbers, you'll never know.
7. Experiment with New Ad Formats
Marketers are taking advantage of Facebook's highly-targeted ad platform like never before and seeing huge returns as a result.
That said, if you haven't spent some serious time experimenting with Facebook's ad creator, you need to carve out some time to see just what it has to offer.
Just because you ran a static ad a few years ago to no avail doesn't mean you should give up on Facebook advertising. For example, creative formats such as carousel ads represent an interactive means of marketing to new fans and followers.
From video ads to promoted posts and beyond, Facebook ads afford flexibility and features like no other social ad platform out there.