In the case of businesses, you want to know genuine organic mentions of your brand both positive and negative. This is particularly important when somebody complains about your brand online. You can't remedy a problem if you don't know of its existence, right?
So, in this blog, we will be presenting a list of 3 tools that can help you to monitor your brand. And before we start, it is very important to know that some of the tools focus on social media listening, while others are more into social media monitoring. People often use the terms interchangeably, there is a subtle difference between these two terms.
Social monitoring is the first step in a social listening strategy. A firm monitors all mentions of its name online, particularly on social media. Once you have discovered social mentions, you can then go a stage further and analyze what the mentions mean. You look for patterns and trends and discover the influencers who already organically promote your product.
Brands and influencers can use a combination of the following tools to help them discover all brand mentions and to monitor their brand:

Social Mention has a very simple interface. It merely presents you with a search box (marked Trends) and a list box, with choices for All, Blogs, Microblogs, Bookmarks, Images, Videos, and Questions. You then click on a Search button to discover where your keyword term has appeared in recent times.
If you use your brand name as the key term, Social Mention helps you discover references to your brand.
Social Mention monitors more than 100 social media properties directly including Twitter, Facebook, FriendFeed, YouTube, Digg, Google, etc. It is a free tool and offers an API for developers who want to interact with the Social Mention site programmatically.
It gives percentage scores for each term, relating to strength, passion, and reach, as well as a sentiment ratio – positive: negative.
As well as providing a point-in-time social media search, you can sign up for a daily social media alert, to help you better monitor your brand's mentions and sentiment.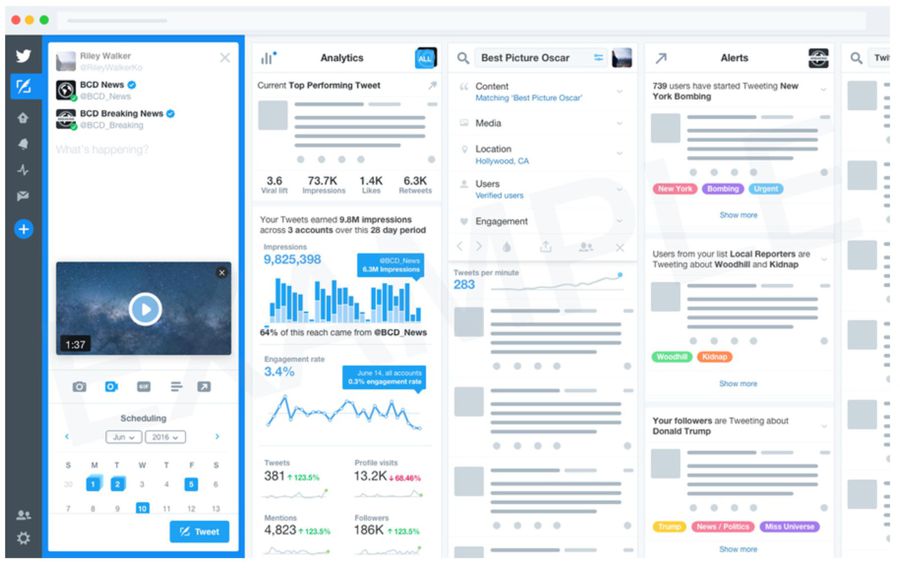 TweetDeck is a free tool that looks very similar to paid social media scheduling tools, such as Hootsuite. As Twitter owns it, however, it only covers that social network.
You can set up multiple columns to show relevant combinations of tweets for multiple Twitter accounts. While most people choose to pick columns like Home, Notifications, or Messages, you have many more options. This includes setting up a column for @mentions – either on a specific account or across accounts.
You can set up multiple columns to monitor a wide range of keywords if that is of use to you. You can respond directly to tweets from within TweetDeck.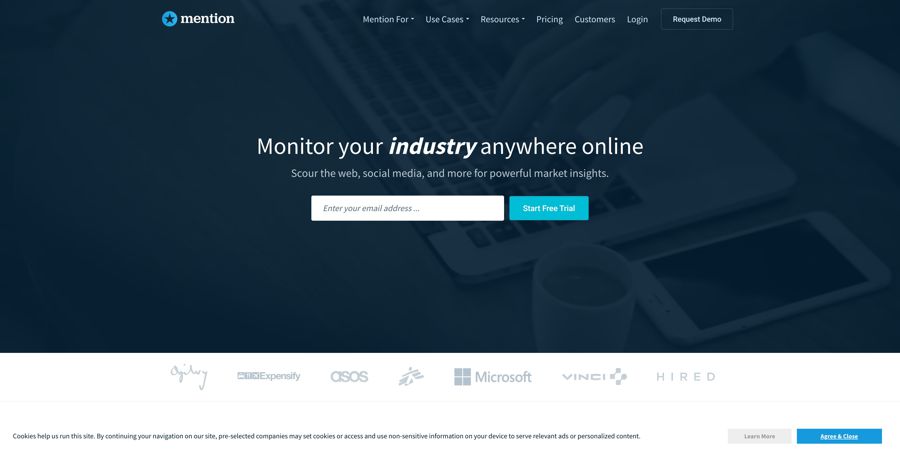 Mention is excellent for discovering when people have mentioned you online, as well as analysis of the sentiment expressed in these mentions.
The $29 / month Solo Plan is ideal for a single user wishing to monitor mentions of their brand. This plan allows two basic alerts and records up to 3,000 mentions per month.
The difference between an alert and a mention is that an alert is the keywords you have Mention crawl the web in search of, for example, it could be your brand's name. Each time the tool finds a reference to that alert, it creates a Mention. Every time it finds a Mention, it will send you either a customizable push notification or an email notification, depending on your settings.
The next level, designed for small businesses wishing to monitor their brand and competitors, is the $99 / month Starter Plan.
If your needs are higher (or your business larger) then you will have to talk with Mention about their Custom Plan, where you can negotiate your requirements, and gain additional features.
One great feature of Mention is that it discovers mentions of your brand in Facebook conversations, which can be a valuable way of discovering disgruntled customers.
Last but not least, of course, the cheapest way to monitor your brand mentions on social media is to use each social network's inbuilt native search or analytics tools. This can be more time consuming than the other paid methods, however. They may be of value for individuals or small brands that are just starting the process.